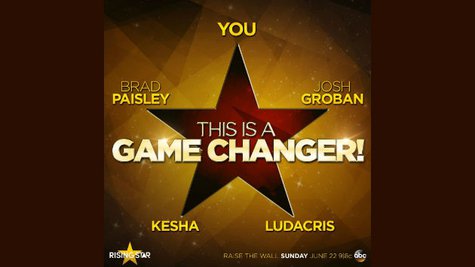 ABC is throwing its hat in the reality singing competition ring with the new series Rising Star , and has announced what top musical talent will appear on the show when it debuts in June.
First up is Josh Groban , who'll host the competition. Serving as experts -- no coaches or judges on this show -- are rapper and actor Ludacris , country superstar Brad Paisley , and Kesha, who's been largely out of the spotlight since she finished a stint in rehab earlier this year for an eating disorder.
Coincidentally, Josh and Brad recently guest-starred together on the CBS comedy The Crazy Ones . Josh played a commercial jingle composer who carried a grudge against Brad, who played himself. The grudge is because years earlier, Josh's character had tried out for a fictional singing competition, and Brad, who was a judge in that competition, rejected him as being unable to sing.
Rising Star, which will premiere June 22, will follow a group of contestants as they perform live. What sets the competition apart from other shows is that the experts don't have a say in who goes, who stays and who moves on. Instead, viewers will vote in real time via an app to determine which contestant will advance in the competition. In fact, the performer will be able to witness the voting during his or her performance.
All four stars also will appear on this Sunday's Billboard Music Awards, which air on ABC at 8 p.m.
Follow @ABCNewsRadio Copyright 2014 ABC News Radio