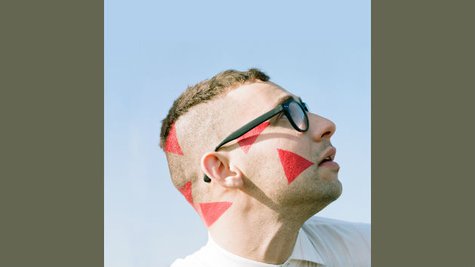 These days, it's standard procedure for artists to announce details of their upcoming albums on Twitter, Facebook or Instagram. But Jack Antonoff , guitarist for fun. , decided to do things a bit differently: he revealed the details of his solo project on Craigslist .
Jack's been working on the side project, which he calls Bleachers , for a while, but hadn't revealed an album title or release date. On Craigslist, he revealed that the disc will be called Strange Desires and it'll be out July 15.
"strange desire' is something that came to me a few weeks ago when i was working on the last song i wrote for the bleachers album," Jack wrote. "the lyric is, 'feeling like i never was young/i followed a dream and a strange desire.'...that line speaks to my entire life over the past 14 years of writing and being on tour. i do feel like I'm constantly mourning a childhood i never had. mostly because i dealt with a lot of loss in the most formative years of my life."
"its the 2 words that perfectly title what this bleachers album is as a documentation of my life as i can remember it at this point," he adds. "its been a bizarre and wonderful decade (particularly the past 2 years). a lot of great things have happened but its also been strange. this album speaks to all of that." He adds that he never kept a diary of all the things he's done with fun. -- "instead, i wrote this album," he notes.
Revealing the July 15 release date, Jack says, "Sharing this album is as important as making it for me."
While working on the project with various collaborators, Jack decided that he didn't want to release the album under his own name. So why did he choose Bleachers? He tells ABC News Radio, "'Bleachers' was the working title for a song that was on the album. It was total, like free association...I just had the document up, and I needed to title it something so I could physically save it on my computer, so I just wrote 'Bleachers.'"
"Then the song became really important to me, [even though] the word 'Bleachers' doesn't appear in the lyrics anywhere, and then I started to kinda fall in love with that word," he adds. "There's something very suburban about it, and something very disconnected and something tied to this time in my life when I was sorta in my weirdest...but most formative phase. And it just sorta conjured up all these feelings that, for me, exist in the music."
As Bleachers, Jack, who dates Girls star Lena Dunham , will kick off a series of summer festival dates on June 8 at New York's Governor's Ball. Bleachers will also play Chicago's Lollapalooza, San Francisco's Outside Lands and Milwaukee's Summerfest, among other appearances.
Follow @ABCNewsRadio
Copyright 2014 ABC News Radio