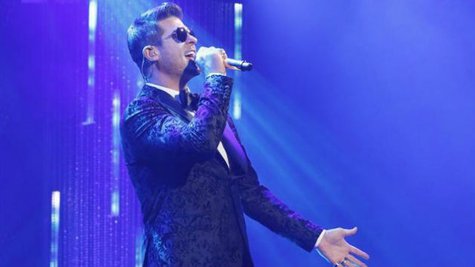 Robin Thicke is the latest performer added to the lineup of the 2014 Billboard Music Awards, which airs Sunday night on ABC.
The singer is a finalist in seven categories this year, including Top Hot 100 Song, Top Digital Song and Top Radio Song, all for "Blurred Lines." It's not clear what he'll perform, but TMZ claims that he'll debut a new song called "Get Her Back," which is reportedly a plea to his estranged wife, Paula Patton.
In the lyrics, which TMZ claims to have obtained a copy of, Robin reportedly sings, " All I wanna do is make it right," "I should've kissed you longer/I should've held you stronger/And I'll wait for forever for you," and "I gotta get her, go get her back/I gotta treat her right/I gotta cherish her for life."
Robin joins a lineup that already includes Lorde , Imagine Dragons , John Legend , Ricky Martin , OneRepublic , Shakira and, via satellite, Miley Cyrus and Katy Perry . Ludacris will host the show, which airs live from the MGM Grand in Las Vegas Sunday night at 8 p.m. ET.
Follow @ABCNewsRadio
Copyright 2014 ABC News Radio