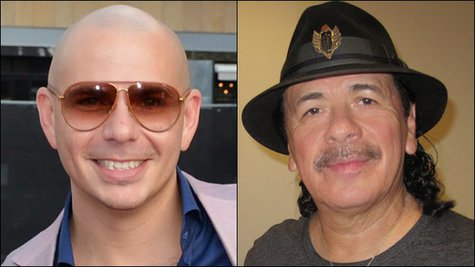 Pitbull is an international pop star, but according to one Rock and Roll Hall of Famer, he's more than that. "He's like the new Queen and Rolling Stones of today," music legend Carlos Santana says of Mr. Worldwide.
Pitbull is one of a long list of stars who collaborate with the legendary guitarist on his band's new album, Corazon . It's similar to Santana's smash 1999 disc Supernatural -- the one with "Smooth" and "Maria Maria" on it -- but it's all Latin music. For the disc, Pitbull remade Santana's most famous song, "Oye Como Va," turning it into a rap tune, and Santana just loves it.
"I'm so grateful to him 'cause I think he tried it, like, close to 20 times," Santana tells ABC News Radio. "I feel so grateful that he invested such diligence, and willingness to do this. Everything that he does becomes like halftime at the Super Bowl, or the NBA. He's like the new Queen and Rolling Stones of today, because every time you want your team to pick up the energy, they play that music, y'know? So that's what Pitbull is: he's, like, the arena energy person!"
Corazon debuted in the top 10 on this week's Billboard album chart. Miguel and Gloria Estefan are among the other acts featured on the disc.
You can get a dose of Pitbull's arena energy this weekend, when he takes the stage Sunday night on the Billboard Music Awards, airing live from the MGM Grand Arena on ABC. He'll be performing with Jennifer Lopez , as they they debut the official anthem for this year's FIFA World Cup, "We Are One (Ole Ola)."
Follow @ABCNewsRadio Copyright 2014 ABC News Radio