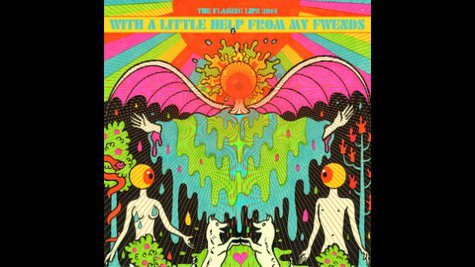 You can hear Miley Cyrus ' much-discussed collaboration with The Flaming Lips this weekend...if you pre-order the album, that is.
Miley's work with the alt-rock oddballs will appear on a tribute album called With a Little Help from My Fwends , which re-imagines the Beatles' classic 1967 album Sgt. Pepper's Lonely Hearts Club Band . The disc is due October 28, but if you pre-order the album starting May 18, you'll get an instant download of "Lucy in the Sky with Diamonds," the track that Miley recorded with the Flaming Lips and Moby .
"Lucy" may be one of two tracks on the album featuring Miley, since last month the band posted a video of Miley performing another song from Sgt. Pepper's, "A Day in the Life."
It may or may not be a coincidence that those two particular Miley tracks reference drugs. "Lucy in the Sky with Diamonds" has long been considered a metaphor for LSD, while "A Day in the Life" contains what commonly are assumed to be two drug references: a line about having a "smoke" and then "going into a dream," and the line, "I'd love to turn you on."
A portion of the proceeds from sales of the album will go to The Bella Foundation , a non-profit in the Flaming Lips' hometown of Oklahoma City that helps needy pet owners pay their vet bills.
Follow @ABCNewsRadio
Copyright 2014 ABC News Radio