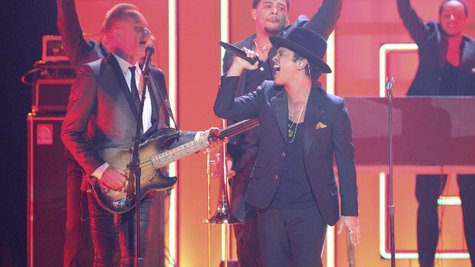 In 2013 at the Grammy Awards, Sting and Bruno Mars memorably duetted on Bruno's "Locked Out of Heaven," and "Walking on the Moon" by Sting's former band The Police . This week in New York, City, the two artists shared the stage once again for a duet.
The Wall Street Journal reports that at the annual fundraiser for New York-based Robin Hood Foundation, Bruno, the headliner, was joined by Sting onstage, and the two performed another Police classic, "Message in a Bottle." A YouTube video reveals that they also performed the Police song " So Lonely, " while another report says they sang "Walking on the Moon." Another surprise musical performance came from the band fun.
The event, which was hosted by John Oliver and attended by big names like Jon Bon Jovi , Michael J. Fox , Eli Manning , Lorne Michaels , John McEnroe , Mariska Hargitay and Tom Brokaw , raised $60 million for New York's poverty-fighting organizations.
Follow @ABCNewsRadio Copyright 2014 ABC News Radio