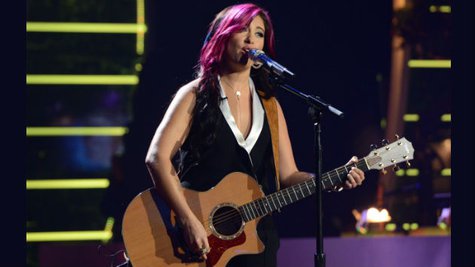 Despite her obvious talent, American Idol's Jess Meuse seemed to come in for a lot of criticism from the judges this past season. But before the singer from Slapout, Alabama ever made it onto Idol, she received even harsher critiques from the panel on another singing competition: The Voice.
As Jessica tells ABC News Radio, she tried out for season three of The Voice , and made it to the blind auditions, where she got to sing for Adam Levine , Blake Shelton , Christina Aguilera and Cee Lo Green . Unfortunately, none of them turned their chairs around for her rendition of Carrie Underwood 's "Undo It," and they never aired her segment. But Jess still remembers exactly what they told her, and it isn't pretty.
"Blake Shelton said I sing off key," she tells ABC News Radio. "Christina Aguilera said that I shriek. And Adam told me that I'm young and my voice has time to mature. And I was 21 at the time!"
About the only coach who had something positive to say to Jess, it seemed, was Cee Lo. "[He] told me he liked my rasp and the way that I projected, but I just wasn't what he was looking for," Jess recalls. It's a good thing she ended up on American Idol, where her voice and songwriting skills carried her to a fourth-place finish.
"I'm just happy because I just feel like this was my time and it was all meant to happen this way," she tells ABC News Radio. Of course, that doesn't mean that the American Idol experience was a bed of roses, either. In fact, she compares it to a certain deadly competition in a certain hit film.
"We're all friends and everybody is like a big weird family on American Idol and we're even friends with, like, the camera guys and everything. But it is a reality show and it is a competition," notes Jess. "And it really is just like The Hunger Games . There were times where I was like, 'Where are the Nightlock berries ?'"
That doesn't mean that Jess, or the remaining finalists, were willing to kill one another to take the Idol crown, though. She says they all had their eyes on the prize, but it wasn't a cutthroat situation.
"If you're in it, you wanna win, especially once you start getting in the top 10 and everybody's really getting hungry for that number one spot," she says. "But nobody is malicious toward anyone else, ever."
Wednesday night's episode of American Idol will find the final three contestants -- Jena Irene, Caleb Johnson and Alex Preston -- returning to their hometowns for a heroes' welcome, and singing three songs apiece: one selected for them by the judges, one selected for them by Randy Jackson and a reprise of a song they've already done, chosen by their hometown fans.
Jess, who performed on Live with Kelly & Michael on Tuesday, believes any one of the three remaining contestants could take home the crown.
"I can't really pinpoint specific things but I can tell you that they each have own unique thing going for them. They each have their own category, their own style and they're all different. So for the same reasons, any of them could win," she tells ABC News Radio.
Follow @ABCNewsRadio
Copyright 2014 ABC News Radio