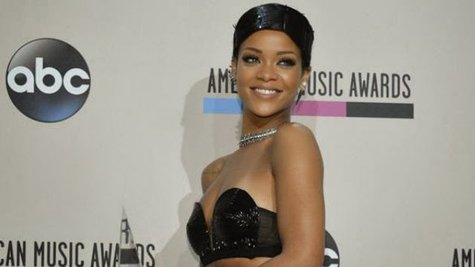 Rihanna has donated $25,000 to a Los Angeles police fund for families of fallen officers and police cadets from underprivileged backgrounds after accidentally dropping and breaking L.A. Police Commission President Steve Soboroff 's cellphone last Friday.
The singer dropped Soboroff's phone as they took a selfie while sitting courtside at a L.A. Clippers game. The image, which showed the two wearing LAPD wristbands, quickly went viral.
The singer later tweeted , "Sorry I broke your phone @SteveSoboroff :)" but she apparently wanted to do even more.
Soboroff announced Tuesday at a police commission meeting that the 26-year-old singer had made a $25,000 donation to the Los Angeles Police Foundation.
Soboroff told the Los Angeles Times he decided to auction off the broken phone to raise money for the fund and when he saw Rihanna again at Sunday's Clippers game and shared his idea, she wrote , "Sorry! I ♥ LAPD. Rihanna," on the phone.
The phone is now up for auction on EBay , with the current top bid at $1,375.
Follow @ABCNewsRadio
Copyright 2014 ABC News Radio