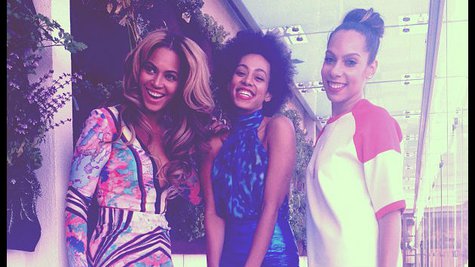 Just a day after footage of her elevator scuffle with brother-in-law Jay Z went public, Solange Knowles has deleted almost every Instagram photo of her sister Beyoncé .
The only remaining picture is from 15 months ago, which shows Solange smiling happily alongside Bey and director Melina Matsoukas . One fan commented, " Hope you and Bey are able to work this out," while another added, " You forgot to delete this one, Solange. "
Meanwhile, Beyonce has kept her pictures of Solange on Instagram in tact. Prior to the surveillance video leak, Beyonce posted a photo of a prayer asking God to guide and bless her relationships: "Help me choose my friends wisely so I won't be led astray," it reads. "Give me discernment and strength to separate myself from anyone who is not a good influence. I release all my relationships to You and pray that Your will be done in each one of them."
As previously reported, a rep from the Standard Hotel in New York City confirmed there's a full investigation into the leak of the video, adding in a statement that the hotel is "shocked and disappointed that there was a clear breach of our security system."
Follow @ABCNewsRadio Copyright 2014 ABC News Radio