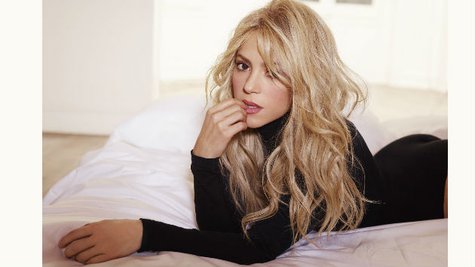 You already know that next season on The Voice, Gwen Stefani and Pharrell Williams will be joining the panel, to replace the exiting Shakira and Usher . But you'd better take a good long look at Ms. Hips Don't Lie while you can...because she's not coming back to the big red chair anytime soon...or ever.
In an interview after the show on Monday, Shakira said, "For now, no, I don't have any plans of coming back, because this was always a temporary thing for me to do." She was careful to add, "But you never know. I never thought that I would be on a show like this one, but the nature of the show -- the fact that we're not judges here, but coaches, and we're helping new talent flourish -- made me change my mind."
Regarding her decision, Shakira explained, "Right now, I have to go on with my life as an artist. I'm not really a TV celebrity. I have to prep a tour, and also do other stuff, like being a mother!"
Shakira, whose son Milan turned one in January, said that she'll have some news on the tour -- which will come in support of her self-titled album -- "soon."
Follow @ABCNewsRadio
Copyright 2014 ABC News Radio