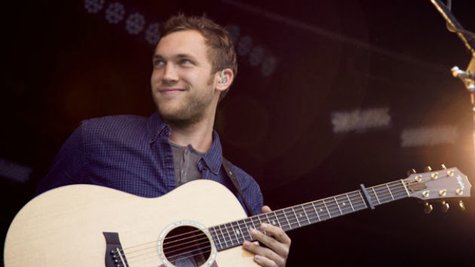 Phillip Phillips will join OneRepublic in Las Vegas for this year's Tiger Jam , an annual charity event in Las Vegas staged by pro golfer Tiger Woods to benefit his own Tiger Woods Foundation.
VegasNews.com reports that Phillip will kick off the event Friday night, May 16 at the Mandalay Bay Beach stage at Mandalay Bay Resort and Casino. The performance comes just a few days before the release of his sophomore album, Behind the Light -- it's out May 19. Tickets for Phillip's performance are on sale now via Ticketmaster and MandalayBay.com.
OneRepublic will perform on May 17, the second night of the two-day event; All-American Rejects are also on the bill. The following night, Sunday, May 18, OneRepublic will play the 2014 Billboard Music Awards, which will air live from Las Vegas on ABC.
In addition to the concert, participants will also enjoy a high-stakes poker night with poker legends, as well as a morning golf outing, live and silent auctions of luxury items, and a post-concert party at the House of Blues. Proceeds from the gala event will go to the Foundation's college access programs. Over the years, the event has raised $16.5 million for Woods' foundation.
Copyright 2014 ABC News Radio