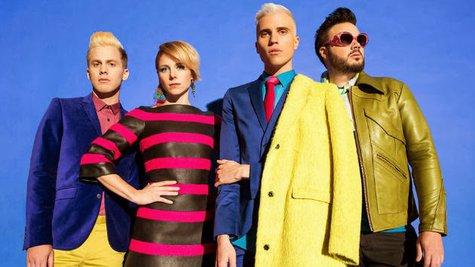 Monday night in Nashville, Neon Trees kicks off a headlining tour in support of their first top 10 album, Pop Psychology. But lead singer Tyler Glenn says just because he recently revealed his homosexuality, that doesn't mean the band's live show will change. "It's not a gay show," he tells ABC News Radio.
"It's an entertainment show," notes Tyler. "We've always been that way. I'm the same guy I've always been. I'm not all of a sudden wearing glitter suits, you know? I've been doing that! So, I think that's the refreshing part, that there's nothing new to digest, really."
But that's not to say that the show won't be fabulous in its own way. "It's kind of over-the-top," reveals Tyler. "We won't give away, like, any of the big surprises, but it's our first show where we're really, like, upping the ante, almost like we're allowed to this time. And the set is twice as long than we normally play."
Over the past few years, Neon Trees has opened for everyone from Maroon 5 and Panic at the Disco , to My Chemical Romance , Duran Duran and Taylor Swift . And Tyler says the shows those bands put on have inspired them to make their own concerts bigger and better.
"I don't think any large club or theater has ever seen a type of show like this," he tells ABC News Radio. "I think we're bringing an arena-sized show to that size venue. It's exciting, and I think we're making an active step in our tour of wanting to take that 'graduation,' in the coming years, of getting to those larger arenas. I think -- because we've had so much fun opening for bands that we love -- we see it as an opportunity."
"It's gonna be a blast, I know that," he adds.
The North American tour is currently scheduled to run through July, wrapping up July 13 in Washington, D.C. In September, the band will head to Europe for more shows.
Copyright 2014 ABC News Radio