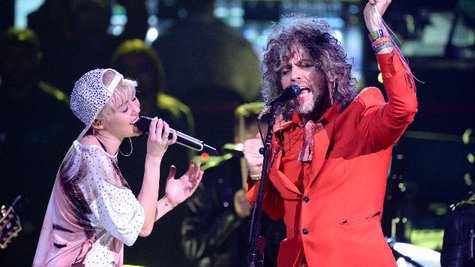 Earlier this year, in one of the most unexpected musical collaborations on record, Miley Cyrus and alternative-rock oddballs The Flaming Lips hit the studio to record a couple of Beatles covers. Now, Miley says she plans to collaborate with the band on her follow-up to her album Bangerz.
Speaking to Rolling Stone , Miley says that she's actually a huge Flaming Lips fan, and she and her late, beloved dog Floyd used to listen to them together. "Now when I listen to that music, I totally feel the presence of him still being there, you know?" she says.
The two acts became friends late last year, when she learned that Flaming Lips' frontman Wayne Coyne was a fan of hers. Now, they're all buddies -- they even go clubbing and to concerts together. Rolling Stone reports that Miley is currently writing songs with them for her next album, and she plans to record those tracks with them when her tour wraps up.
"On my last record, everything we did was with computers," she tells Rolling Stone. "But they're real musicians – they can change keys on a whim. I've never seen anything like it. They've had me on this journey that's greater than anything I've been on. It's really deep."
As for why the Flaming Lips dig Miley, Coyne tells Rolling Stone , "Our shows are very childlike, like kids on acid, and hers are too. We're so much alike in believing art is supposed to be fun. She's just a freak. I love her to death."
Follow @ABCNewsRadio
Copyright 2014 ABC News Radio