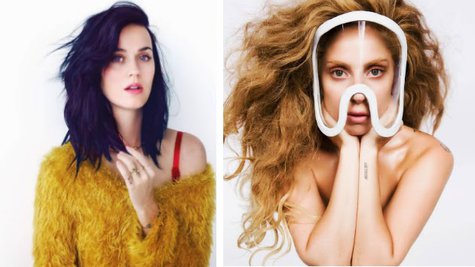 In the past, Lady Gaga and Katy Perry have tried to discourage their fans from attacking one another. Yet Gaga on Thursday posted a tweet that some have perceived as a slight toward Katy.
Gaga tweeted , "It looks like green hair and mechanical horses are the thing now," along with an emoji representing a pair of googly eyes.
That very well could have been a reference to Katy, who's had green hair for about a month now. She rode an animatronic horse while performing "Dark Horse" during the first show of her Prismatic World Tour, in Belfast, Northern Ireland, on Wednesday night.
So what does all this have to do with Gaga? The performer arrived to the American Music Awards last year on a white mechanical horse. Not long afterward, she sported green hair for a photo shoot with Terry Richardson .
Back in January, some Gaga fans attacked Katy on Twitter after she posted an image of the stage design for her tour. They felt it was a rip-off of the stage design for Gaga's Born This Way Ball tour.
Last summer, Gaga encouraged her fans to treat Katy's fans with kindness, tweeting, "Let's make 2013 a year where music/talent/artistry is more important than gossip/fanwars I respect all fanbases 4 their passion."
Copyright 2014 ABC News Radio