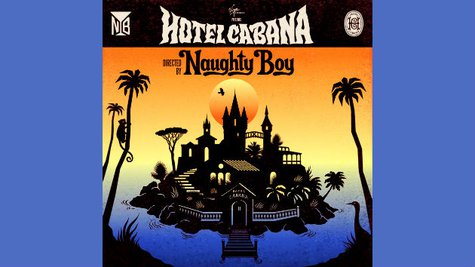 Ed Sheeran , Bastille and Sam Smith are three of the hottest British acts on the charts right now, but if you want them all on one album, then you'll want to pick up Hotel Cabana, the debut disc by British producer Naughty Boy .

Naughty Boy, born Shahid Khan , is the guy who tapped Sam Smith to sing lead vocals on his single " La La La ," a massive U.K. hit which has now reached the top 10 in the U.S. That song's included on Hotel Cabana, which just arrived this week. The collection also includes a track called " Top Floor " that features vocals by Ed Sheeran, and another one called "No One's Here to Sleep " that features Bastille. In addition, the record includes four tracks featuring Emeli Sandé , whose music Naughty Boy has been instrumental in creating.
Why is the album a collection of so many different artists? Because it's a concept record, and Naughty Boy is telling the story through all the various songs. The idea behind the record was inspired by a job that the producer had before he found chart success.
"I used to work in a hotel. I was a waiter and it was like a five-star hotel, you know, Obama stayed there, Madonna ," Naughty Boy tells ABC News Radio. "So I just saw this whole different world. But then, by the end of it, I could see that a lot of these people were lonely. They had money, but they were a little bit depressed. They didn't have friends."
"So, that's where, initially, I thought of this idea of having a hotel and the hotel actually represents fame," he explains. "And fame's like this thing that everyone thinks they want, but it might not be...once you're at the top floor."
Naughty Boy says that even though all the tracks on the record sound different -- "La La La," for example, is nothing like the Ed Sheeran track, which is an acoustic tune -- he feels it all hangs together.
"When you hear the album Hotel Cabana you'll hear that nothing's the same and that everything has its place...I feel like you'll walk away feeling like you've heard a complete album, but still, at the same time, nothing's really the same."
While Naughty Boy is quite famous in the U.K., and is just getting there in the U.S., he says that, while he wants his music to be famous worldwide, he himself isn't craving the kind of fame he's talking about on Hotel Cabana .
"I'm actually a bit scared of that kind of fame, like, this instant fame and then it instantly can be taken away," he tells ABC News Radio. "I'm hopefully here for the long run. So, you know, fame -- for me personally -- is my last goal, but my music? Definitely, whatever it takes." (AUDIO IS ABC 1-ON-1)
Naughty Boy's musical fame will no doubt be continuing, since he's currently in the studio with One Direction.
Here's the track list for Hotel Cabana:
"Act I (feat. George the Poet)
"Welcome to Cabana" (feat. Emeli Sandé & Tinie Tempah)
"Wonder" (feat. Emeli Sandé)
"Think About It" (feat. Wiz Khalifa & Ella Eyre)
"Hollywood" (feat. Gabrielle)
"Act II" (feat. George The Poet)
"La La La" (feat. Sam Smith)
"One Way" (feat. Mic Righteous & Maiday)
"Pluto" (feat. Emeli Sandé & Wretch 32)
"So Strong" (feat. Chasing Grace)
"No One's Here to Sleep" (feat. Bastille)
"Lifted" (feat. Emeli Sandé)
"Top Floor" (feat. Ed Sheeran)
"Epilogue" (feat. George the Poet)
Copyright 2014 ABC News Radio