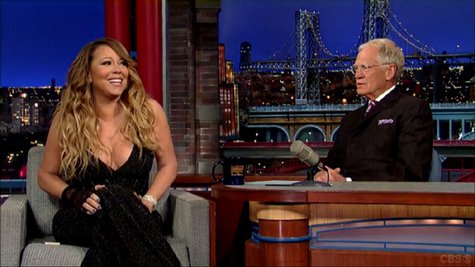 Mariah Carey stopped by CBS' Late Show with David Letterman on Wednesday night to promote her new album, Me. I Am Mariah...The Elusive Chanteuse, out May 27.
Mariah told David Letterman that the album had gone "down to the wire" after suffering from various delays. She said she wanted fans to experience Me. I Am Mariah...The Elusive Chanteuse as a "body of work," yet people kept pestering her, "So what's the single and when are we putting it up on iTunes?"
Mariah added, "I'm like, I know, I know this is the typical way of doing things. I'm trying to do something my own way."
Letterman asked her about the album's back cover, which features a self-portrait she created when she was three and a half years old. She explained that her young, hand-drawn self has a diamond on one hand and a pack of cigarettes in the other, because her mom smoked.
Mariah also discussed "Dem Babies," her three-year-old twins Monroe and Moroccan , the latter of whom she says has adopted the nickname "Rocky." It seems he's been channeling Sylvester Stallone 's Rocky; Mariah said, "He's punching kids....These kids are bigger than him, they're older, and he's knocking them out of the box."
Copyright 2014 ABC News Radio