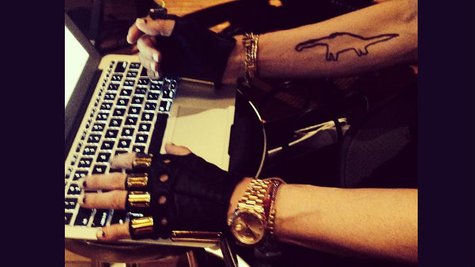 Madonna has just revealed yet another collaborator with whom she's working with on her new album: it's the guy currently rumored to be Katy Perry 's new boyfriend.
Madonna posted some photos to her Instagram account revealing that her new musical partner is Diplo , the DJ and producer born Wesley Pentz . He's worked with Justin Bieber , Britney Spears , Usher , Bruno Mars , Beyonce and many other top artists. He made headlines last month when People magazine reported that he and Katy Perry had been spotted together looking "lovey-dovey" and "very affectionate."
In the first photo , Madonna's hands are shown typing on a laptop, and she's got a drawing of a dinosaur -- Diplo's trademark -- on her forearm. " Working with @Diplo got me like................WHAAaaat? ," she wrote. The second shot is a selfie, which she's captioned, " Diplo is a slave driver! Got me working all hours of the night in the studio. Had to sneak into the bathroom!"
In addition to Diplo, Madonna's new album includes collaborations with DJ and producer Avicii, as well as songwriters Toby Gad , MoZella, S1 , and Natalia Kills . No word on when we can expect to hear her new material.
Copyright 2014 ABC News Radio