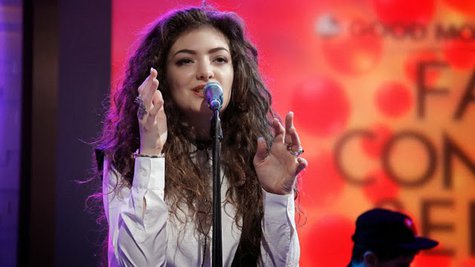 In the past year, Lorde has gone from a schoolgirl in New Zealand to a Grammy-winning international pop sensation, gushed over by fans, celebrities and critics alike. But the 17-year-old star says she's not jaded by her success at all. Even something as simple as the toiletries in a new hotel room are enough to get her excited.
Speaking to London's Sunday Times magazine , Lorde addresses a lyric in one of her songs, where she sings, "I still like hotels, but I think that'll change." "I still like them," says the girl who's been to more of them than she can count in the past 12 months. "I still get that excitement when you put the card in and you're opening the door, thinking, 'Oh, what is this room going to be like?' And I like all the bathroom stuff. I don't bring shampoo or conditioner; I use what's there."
Lorde, born Ella Yelich-O'Connor , has even come to terms with doing constant interviews, which she said last year she'd never have to do "in a perfect world." While she first preferred to remain something of a mystery, she now tells the Times , "I decided maybe the mainstream audience didn't need another enigmatic, mysterious musician. I always thought pop singers are different to us, sort of other-worldly beings, but now I've realized you can do it and still be yourself."
"I'm a teenager, and I'm a girl, and if I can be completely myself I can maybe show other teenage girls they can do whatever they want and it might work as well," she adds. "I think there's more power in that than being an enigma."
Lorde also reveals in the interview that she won't even start thinking about her next album until August, when she has a month off and can go into the studio, but says that she's been writing songs for other people. She didn't say who those other people are, but explains, "It's fun. It's not as stressful as writing for yourself because it doesn't have to be entirely accurate about your personal life."
Copyright 2014 ABC News Radio