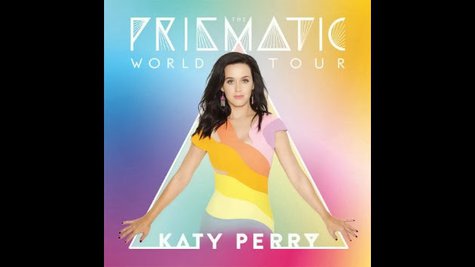 Isn't it annoying when you to to see your favorite singer in concert, and instead of singing all their famous songs, they just do stuff from the new album? Well, Katy Perry wants to assure fans that on her Prismatic World Tour, kicking off Wednesday night in Belfast, you're gonna hear all the hits you could possibly want.
Appearing on Australian TV to promote the tour, Katy said, "There are going to be a lot of incredible visuals on this tour, and all the songs that you wanna hear. 'Cause I know for me, when I go see a show from, like, a big artist, I wanna sing the #1 hits: all of 'em. So, any song that has...been a #1 or close to it, I'll be singing it."
Since most of Katy's songs have actually hit "#1 or close to it," that means fans are in for a treat: they'll be enjoying everything from "Roar" and "Dark Horse," to "Teenage Dream," "Firework" and "California Gurls," to "Part of Me," "I Kissed a Girl" and more.
Of course, Katy will also perform some tracks from her latest album, PRISM , including her new single, "Birthday." In the U.K., she's offering a special treat for fans who are celebrating their birthdays within a week of her concert: if you're going to the show, you can sign up online , and win the chance to join her on stage while she performs the track. Don't lie, either, because you'll have to show I.D. when you get there. No word on whether she'll be offering this to fans in North America when the show arrives there in June.
As for the "incredible visuals" that Katy promises, she'll certainly have plenty of eye-popping costume designs , from what seems like every top designer working today. She's been sharing sketches of them for the last couple of weeks via Twitter. Most recently, she posted a photo of herself singing in a dress whose skirt is about a story high. As for the rest of the production, Katy tweeted at the end of April, "Someone just said my stage was the battleship of stages. Rad!"
While fans in North America wait for the Prismatic tour to arrive on June 22, they can console themselves with Katy's new line of accessories for Claire's Stores, which is now available exclusively online. You'll find everything from "Roar"-themed jewelry and cell phone cases, to notebooks and cat's eye sunglasses.
Copyright 2014 ABC News Radio