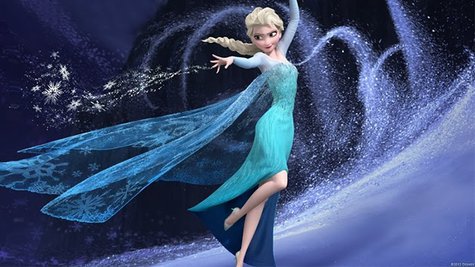 Frozen continues to freeze out all comers on the Billboard album chart, racking up a 13th non-consecutive week at #1.
Frozen is now one of only 39 albums that have spent 13 weeks or more on top in the history of the chart, which began in 1956. The album has also managed to sell over 100,000 copies for the last 10 weeks, which is a feat in itself. The last album to do that was Taylor Swift's Red, back in 2012. Frozen has now sold a total of 2.6 million copies, making it by far the year's best-selling disc.
Meanwhile, Ariana Grande's new single, "Problem," blasts onto the digital chart with a whopping 438,000 copies sold, according to Nielsen SoundScan. That's the eighth-biggest debut in history for a download, and the biggest sales debut for a song this year. The last song to sell more in its first week was Katy Perry's "Roar," which sold 557,000 copies last summer. The song also enters the Billboard Hot 100 at #3.
Ariana's single features Australian rapper Iggy Azaela , whose own single, "Fancy," jumps to #2 on the digital songs chart, right behind "Problem." That makes Iggy the first artist to hold down the top two spots on the digital chart since 2012, when Taylor Swift did it.
Copyright 2014 ABC News Radio