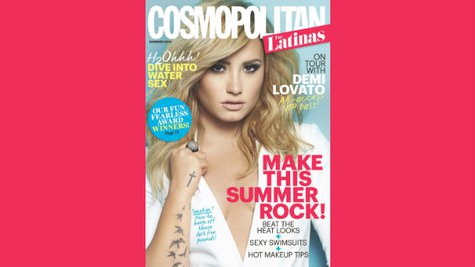 Some artists get very sexually explicit in their lyrics, while others avoid talking about doing the nasty. For Demi Lovato , the decision all comes down to one thing: what will her family think?
"I'm not against [singing about sex]. Sex is a part of life and it's a personal decision," she tells Cosmopolitan for Latinas . "Some people put it in their music, which is awesome and good for them. But for me, there's still that weird feeling in the back of my head that's like, 'All right, I know that my mom and dad are going to hear it and my little sister, and that's really weird for me.'"
That doesn't mean she's sworn off singing about doing "it," though. "If I feel like expressing myself in that kind of way, then I'll be like, 'All right, guys -- look the other way!'" she laughs.
Demi also talks to Cosmo for Latinas about her crusade to get her fans to stop thinking that getting wasted on alcohol is cool.
"When you turn 21 the first thing you think about is alcohol. I want to change that," she says. "I have fans that are going to turn 21 and I want them to know that there are other ways you can celebrate, not just by poisoning yourself and getting yourself into trouble or getting hurt and then going to the hospital, or even just wasting it on drinks when you could be doing stuff for others or celebrating the fact that you made it to 21 years alive."
You can read Demi's interview in the new issue of Cosmopolitan for Latinas, and online at Cosmopolitan.com.
Copyright 2014 ABC News Radio