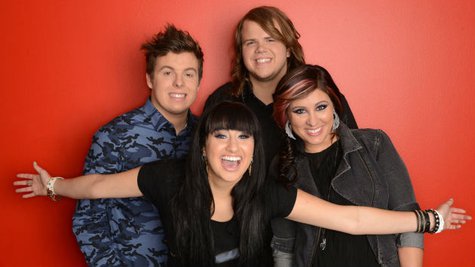 American Idol is down to its Final Four, and according to recently eliminated contestant Sam Woolf , the fact that someone actually is going to take home the crown this season is finally sinking in for the remaining finalists. It seems the concept of victory hasn't really been on the singers' minds much as they've gone through the competition.
"For me, I was just going week by week," Sam, who was eliminated after last week's failed "twist" stunt, tells ABC News Radio. "I wasn't really, like, looking...I mean, I wanted to win but I wasn't like, 'I'm winning.'" But the endgame is in sight.
"I remember coming back after the show, after I got eliminated [last week], back to the hotel, with Jess, Jena and Alex and Caleb," Sam, who appeared Monday on Live with Kelly & Michael, recalls. "And I'm like, 'One of you guys is going to win.' And [it] just, like, all sank in. It's just, like, so weird."
So which of the Final Four is most likely to named Season 13 champ? Well, according to Sam, all four have special qualities that make them contenders. He calls Jena Irene "incredible" and says Jess Meuse 's "style and voice" are "unique." As for Caleb Johnson , "He's just, like, straight up like [a] power house rock singer. And I feel like he kills it every performance," says Sam. And his buddy Alex Preston ?
"Alex is just unique. That's just my one word for him. He's awesome," says Sam.
Meanwhile, Randy Jackson announced on ABC's The View on Tuesday that he feels it's Caleb or Jena's competition to lose.
No matter who wins, Sam, who was a fan of the show before he was on it, feels that Season 13 ranks among the better American Idol seasons. "I think it was a really good season," he says. "The judges this year, I think, are the best that it's been [compared with all the] past...seasons, because they really have really good chemistry and they all have their own unique style of judging."
As for last week's "shocking twist," which saw the contestants given the choice of having one person go home, or voting to wait a week and then having two go home, Sam and the rest of the contestants agree that it never should have happened. But even though the vote was split, Sam says there's no hard feelings about the decision, which sent him home.
"We're all cool," he tells ABC News Radio. "I mean, we went, like, as a group, discussing doing the twist part, and we had first agreed that we should wait and have another week with each other, but then we kind of just realized that it would be no point. Everyone was cool in the way it went down, yeah."
American Idol continues Wednesday night at 8 p.m. ET on Fox and this week's theme is "Love: Break-ups and Make-ups." Catch the eliminated finalists performing every Monday on Live with Kelly & Michael .
Copyright 2014 ABC News Radio