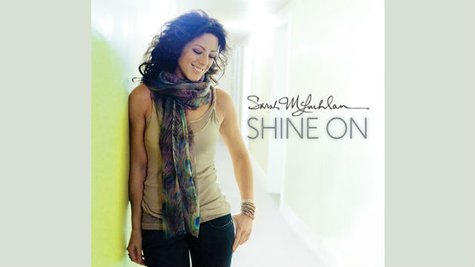 After a four-year break between albums, Sarah McLachlan 's finally back with new music: her disc Shine On arrives in stores on Tuesday. Sarah's been through some major upheaval in her life this decade, and she says going through that has inspired her to push herself creatively while making the new album.
Over the past six years, Sarah's been through a divorce, split with her longtime management and record label, and seen her beloved father pass away. That, she says, made her rethink the way she wanted to present her music. "All these huge changes happened and I really had to sort of redefine myself," she tells ABC News Radio. "And I think that I did sort of hit on things a little more directly than I have in the past."
What she means is that the songs on Shine On are more accessible than some of her previous material. "You know, before...if things were a little too close to the bone, I'd cloak them in a parallel universe or talk about someone else's experience," Sarah explains. "But this was like, 'No, this is where I am, this is who I am, this is where I am. And some of it's not that pretty, but I'm just gonna be really open about it."
Sarah also stepped out of her "comfort zone," as she puts it, by bringing more of a rock influence into the new album, literally: she worked on several tracks with legendary producer Bob Rock , who's best known for the hit records he made with Bon Jovi , Aerosmith , Motley Crue and Metallica . "I really did want to, sort of, push the envelope," she tells ABC News Radio. "And I love playing electric guitar and I haven't done it for many years, and that was one of the things that Bob encouraged me to do."
But Shine On isn't Sarah McLachlan going heavy metal. At its heart, it's a collection of personal songs about hope, passion, parenthood and love. Even the tracks that are inspired by the 2010 death of Sarah's dad have a hopeful note to them.
"Watching my dad pass -- he had cancer and it was 18 months and the last couple were pretty ugly, but he managed all of it with such grace and dignity," she recalls. "He wasn't waiting to die, he was holding on to every day and he was grateful for every moment. And it was such a great gift that he gave me and such a wonderful lesson. And so the idea of Shine On is that we don't want to just endure and survive, we want to shine. We want to give something back to the world. We want to persevere and make a real impact."
That positive message is what Sarah wants fans to know that Shine On is about: it's far from the downbeat vibe that some people associate with her and her music.
"I think it's so funny, the whole Debbie Downer thing," she laughs. "People assume that I sit in the dark and write poetry amidst candles all day long! I'm actually...quite an upbeat person. I'm a quite happy person, y'know, but you don't get to this point in your life without struggle and loss. And for me the process of songwriting is very much, 'How do I work through this stuff?'"
Sarah, with her five-piece band and her two daughters in tow, will hit the road in June for a summer tour in support of Shine On , and she'll definitely be playing some electric guitar.
Copyright 2014 ABC News Radio