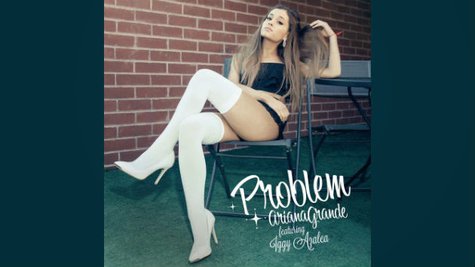 Looks like the only "Problem" with Ariana Grande 's new single is that people can't download it fast enough. Billboard reports that the track is likely to score one of the biggest debuts ever for a digital song.
According to Billboard, "Problem," the first single from Ariana's sophomore disc, may have sold as many as 425,000 downloads in its debut week. That would make it among the top 10 biggest sales debuts ever for a digital song. The full details will be released on Wednesday, as tallied by Nielsen SoundScan.
The biggest first-week sales debut ever for a digital song came in 2009, when Flo Rida 's "Right Round" sold an amazing 636,000 downloads. Ariana's numbers, though, could give her the fourth-biggest start ever for a female artist, behind Taylor Swift 's "We Are Never Ever Getting Back Together," which debuted with 623,000; Katy Perry 's "Roar," with 557,000, and Lady Gaga 's "Born This Way," which debuted with 448,000.
What's definite is that Ariana will be the youngest woman ever to debut with more than 400,000 downloads of a track. Overall, the most recent song by any artist to have sold more than 400,000 downloads in its first week was "Roar."
Meanwhile, "Problem" will also likely debut in the top 10 on the Billboard Hot 100, giving Ariana her second top 10 single, following "The Way."
Copyright 2014 ABC News Radio