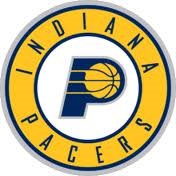 It's on to the second round for the Pacers as they defeated Atlanta 92-80 in front of a sold-out crowd at Bankers Life Fieldhouse on Saturday. Indiana started the game off slow going 1-6 from the field and five turnovers the as the Pacers carried just a one point lead after one quarter of play. Then the Pacer "D" went to work holding the Hawks to just 13 second quarter points as Indiana used an 18-4 run to take a 47-36 lead in to the locker room as they never looked back to take the Game 7 victory.
Four Pacers scored in double-figures led by Paul George with 30 points and 11 rebounds, Lance Stephenson scored 19 points and pulled a team-high 14 boards, George Hill added 15, Roy Hibbert chipped in with 13 and David West had a solid game on the glass with 13 rebounds in the victory.
Indiana will now host the Washington Wizards tonight in Game One of the Eastern Conference Semi-Finals beginning at 7pm. The Pacers won the regular season series 2-1.