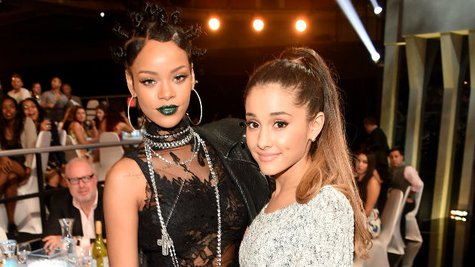 During a recent awards show, it appeared that Rihanna , who was sitting in the audience, was laughing at Ariana Grande 's onstage performance of her new single "Problem," which led to much online speculation and snark. But now, Ariana has cleared that up: Ri-Ri was NOT mocking her or laughing at her.
Ariana was speaking to the Australia radio station The Bump Show on Monday when the deejay said that he'd heard that in fact, Rihanna was just laughing at something Ariana's friend said. The singer said she didn't know about that, but then added, "I didn't see her laughing at me, but when I watched it afterwards it looked like she was just shocked because I was doing something different. But afterwards, she was so kind to me. She was like, 'Lil' mama, keep doing what you're doing, because it's working.'"
"I thought it was funny that people tried to make such a commotion out of it, when she was just being playful and supportive, if anything," she continued. "People are always trying to make a big deal out of nothing because they're bored."
Ariana's new single "Problem" is expected to make a huge debut on the Billboard Hot 100 this week.
Copyright 2014 ABC News Radio