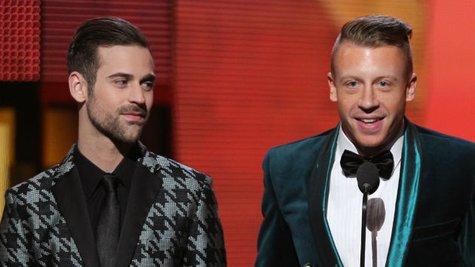 2013 was a crazy whirlwind for Grammy-winning rap duo Macklemore & Ryan Lewis, and 2014 has continued in that vein, with tour dates that have taken them across the globe. But the duo says it plans to stay in one place for the second half of this year, and devote themselves to recording the follow-up to their smash album, The Heist .
Ryan Lewis tells the Huffington Post that up 'til now, he and Macklemore have avoided working on music piecemeal, during downtime while on the road, because that's just not their process: "I think everybody works differently...if we're touring, we just don't have a good track record of jumping in and writing songs and going to various studios."
He explains, "Us being in the studio means that we meet in the morning and we leave in the morning. We do that seven days a week. That's what our season of making an album looks like. We are ready to hibernate and we have rough drafts and stuff that we're walking on and very excited about."
Stressing that he and Macklemore work together jointly on all their material, Ryan adds, "What people don't know is we're both very collaborative. There's an openness for him to write three verses and bring them to me and I can give him constructive criticism. And it goes the other way. He can have strong input on any of the production."
Ryan says, "It can start with a vibe, a beat that drives a story, or it can start with a story and then trying to identify the tone to tell that story right."
No word on when the follow-up to The Heist might be released.
Copyright 2014 ABC News Radio