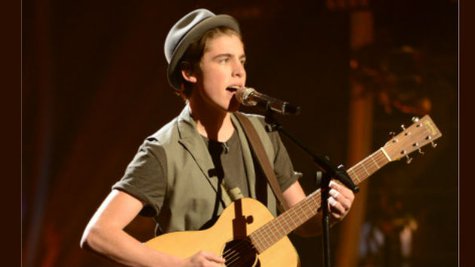 Sam Woolf , the young singer who was saved by the judges earlier in this season of American Idol only to be eliminated on Thursday night's show, says he felt the surprise twist that sent him home was unnecessary.
"I thought it was too much drama. Just my opinion," he told reporters during a Friday conference call. "I don't think it really had to happen."
During the show, Ryan Seacrest told the contestants that they had a choice: either the person who received the lowest number of votes would go home as usual, or they could all vote to remain together and safe on the show for one more week, with two contestants going home the following week. The vote, he said, had to be unanimous, but it was not. Sam received the lowest number of votes, and he went home.
Confirming that he voted "yes" to staying together one more week, Sam told reporters about the process that went into the five contestants making their decision.
"We kinda just huddled up as a group and were deciding, and at first, we were like, yeah, we should do the save thing and have another week with each other," he explained. "But as it came down to it, some of us were realizing that two people then have to go home that next week, and so we just picked whatever we felt was right, 'cause we had no idea who was going home."
It's since emerged that the two contestants who voted "no" were Jena Irene and, by process of elimination, Alex Preston , who refuses to confirm his vote. While those two have received hate on Twitter for their decision, Sam stressed that they shouldn't be blamed for his ouster.
"They didn't know. Anybody coulda went home," Sam told reporters. He did admit, however, that he had a feeling that he was the one in the crosshairs, thanks to his less-than-stellar performance on Wednesday night.
During the conference call, Sam also revealed that he wasn't exactly thrilled with the show's attempt to paint him as this season's resident heartthrob.
"I wouldn't really place myself under that category if I had the choice," he told reporters, adding that it "sometimes" made him feel uncomfortable. "It's just not who I really am. I don't think I'm really a 'heartthrob.'"
Sam, a high-school senior, will perform Monday on Live with Kelly and Michael. He told reporters that he'll likely miss his senior prom on May 17 because he'll have to return to Los Angeles to rehearse for the two-night Idol finale, which begins May 20.
Copyright 2014 ABC News Radio