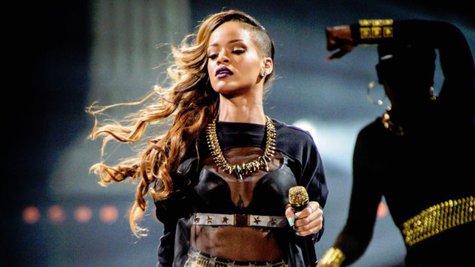 The men of the world have spoken -- well, some of them -- and they agree: Rihanna is the third sexiest woman in the world. She's just one of several female singers who've landed on FHM magazine's annual list of the 100 Sexiest Women in the World.
Rihanna comes in third on the list, which is topped by Jennifer Lawrence . British actress Michelle Keegan is #2. The magazine describes her as "a lady that can't go a single week without inadvertantly melting Instagram [by] doing something awesome, be it being a...damn rock star in a nightclub or getting an ill-judged photo taken with an exotic animal."
In at #4 is a woman we've all seen topless: Emily Ratajkowski , the model who starred in Robin Thicke 's video for "Blurred Lines," and also in Maroon 5 's video for "Love Somebody."
Here are the other female musicians who appear on the list:
#7: Beyonce
#9: Nicole Scherzinger
#27: Taylor Swift
#56: Selena Gomez
#59: Britney Spears
#60: Ellie Goulding
#77: Ariana Grande
#79: Miley Cyrus
#80: Hayley Williams of Paramore
#87: Shakira
Copyright 2014 ABC News Radio