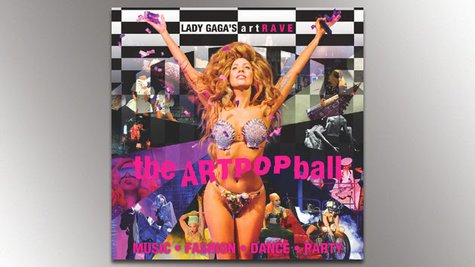 How is Lady Gaga making her new tour, artRAVE: the ARTPOP Ball , super-interactive for her fans? By inviting them to join her onstage for a drink at every concert.
Gaga is teaming with Absolut vodka to offer fans the chance to watch her concerts from the Absolut ARTPOP Lounge, an onstage bar that'll actually be part of her stage set. While there, they'll be downing custom cocktails like the "Absolut Gaga," made with ginger ale, sparkling apple cider, grapefruit and Absolut. At each concert stop, two fans will be chosen on-site to have their seats upgraded to spots at the onstage bar. Fans can also enter online at AbsoluteGaga.com for a chance to win bar tickets.
Another way to win tickets will begin May 12, when LGBT-friendly bars in cities nationwide will host Gaga-inspired runway shows. Those who best manage to transform themselves into "their own personal expression of Lady Gaga" will have the chance to win entrance to the onstage lounge. Finally, fans can register at AbsolutSummer.com for a chance to see Gaga perform in Stockholm, Sweden, the home of Absolut vodka.
Gaga's tour kicks off Sunday night in Fort Lauderdale, Florida. In a statement, she says, "This show is going to be unlike anything we've ever done before, so get ready to party...It's going to be a huge rave in the spirit of art and creativity."
Copyright 2014 ABC News Radio