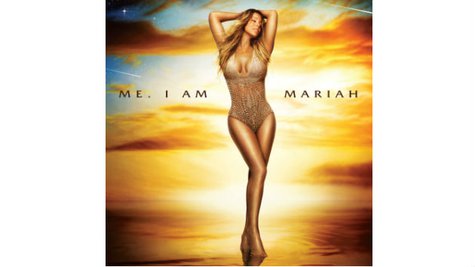 At long last, Mariah Carey is ready to release her new album.
Early Thursday morning, Mariah revealed the cover artwork, release date and track list for the album, which she titled Me. I Am Mariah...The Elusive Chanteuse . The project was previously known as The Art of Letting Go .
You'll be able to pick it up on May 27, though it's available for pre-order now on iTunes.
A standard edition of Me. I Am Mariah...The Elusive Chanteuse comes with 15 tracks, while the deluxe edition contains 18 songs. Guest stars on both include Miguel and Nas ; the bonus tracks feature Mary J. Blige and R. Kelly .
The song "Supernatural" stands out in the track list for both, because it features her twins, Monroe and Moroccan .
Mariah explains the origin of the album's title in a new YouTube video . She says the back cover features her "first and only" self-portrait, which she drew when she was three and a half years old, and is titled "Me. I Am Mariah." She jokes, "Please don't judge me for such a simplistic title. C'mon, I was only three and a half."
She says, "It was a creative visualization of how I saw myself with the purity of a child's heart before it was ever broken."
The front artwork for the deluxe edition depicts Mariah from the upper chest and up. The standard edition features a full body shot of the singer.
Mariah later notes in the YouTube clip that she's earned a few nicknames since then: most recently, "The Elusive Chanteuse," hence the second half of the album's title.
Mariah's announcement wasn't a total shock; she recently told Billboard that she was planning a "surprise" release.
Here's the track listing for Me. I Am Mariah...The Elusive Chanteuse :
"Cry."
"Faded"
"Dedicated" (feat. Nas)
"#Beautiful" (feat. Miguel)
"Thirsty"
"Make It Look Good"
"You're Mine" (Eternal)
"You Don't Know What To Do" (feat. Wale)
"Supernatural"
"Meteorite"
"Camouflage"
"Money ($ * / …)" (feat. Fabolous)
"One More Try"
"Heavenly (No Ways Tired/Can't Give Up Now)"
"It's a Wrap" (feat. Mary J. Blige)*
"Betcha Gon' Know" (feat. R. Kelly)*
"The Art of Letting Go"*
"Me. I Am Mariah…The Elusive Chanteuse"

* Deluxe edition tracks
Copyright 2014 ABC News Radio