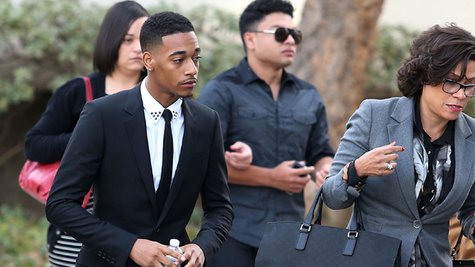 Justin Bieber 's pal Lil Za took a plea deal on Wednesday to settle a case stemming from a January raid of Bieber's mansion. The 20-year-old rapper, pleaded no contest to felony drug possession and misdemeanor vandalism, reports TMZ .
Lil Za, whose birth name is Xavier Smith , was in the mansion when Los Angeles County Sheriff's investigators searched the house looking for evidence that Bieber pelted his neighbor's home with eggs. Lil Za was arrested and charged with possession of Ecstasy and Oxycodone.
Lil Za must perform 20 hours of labor for Caltrans -- the California Department of Transportation -- which basically requires him to pick up garbage on the side of the road, according to TMZ. He was also ordered to complete a drug rehab program. Once he completes both requirements, the felony drug charge will be reduced to a misdemeanor.
The vandalism charge stemmed from Lil Za tearing a jail phone off the wall of a holding cell. Lil Za was ordered to pay $600 for damaging the phone.
Prosecutors are still deciding whether to charge Bieber for allegedly egging his neighbor's house.
Copyright 2014 ABC News Radio