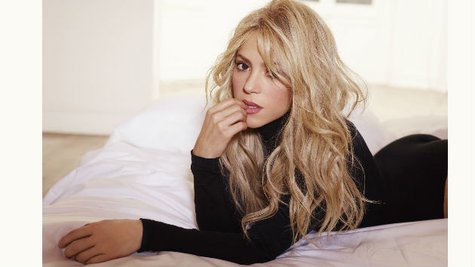 Shakira is beautiful, sexy and talented, but if you've ever seen her on The Voice , you know that she's also very intelligent. Maybe that's why the singer describes herself as a "closet nerd."
Responding to 20 questions from Marie Claire magazine, the singer says the one thing people would be surprised to know about her is that she's a "closet nerd," explaining, "I love to study history and visit museums." Asked what's on her bookshelf, she continues the theme, replying, "Poetry, history and art books."
Also surprising, considering her amazing figure, is the fact that she apparently eats chocolate non-stop. When asked what her greatest indulgence is, Shakira says, "Chocolate, always." Asked what's on her kitchen counter, she names Nutella chocolate spread. And when asked what's on her nightstand, she replies, "My iPad, and maybe a piece of chocolate or two."
"I love food, and I'm a chronic over-orderer at restaurants," Shakira tells the magazine, admitting that "gluttony" is one of the seven deadly sins she's guilty of.
Here are some of her other answers:
Do you have a secret talent? "I'm double-jointed. I can put my legs over my head, which freaks people out."
What superstitions do you believe in? "No hats on the bed! It's bad luck -- ask any Colombian."
What should every woman try at least once in her life? "Falling in love without thinking."
What brings you the greatest joy? "My family, particularly my son Milan 's smile."
Copyright 2014 ABC News Radio