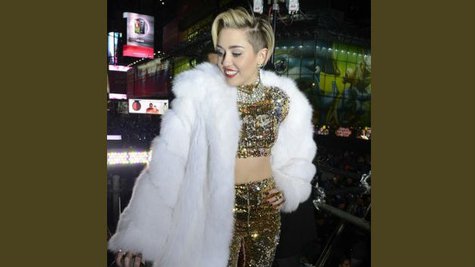 It's not uncommon for educational institutions to offer courses on music legends -- Bruce Springsteen to Jay Z are two artists who've recently been subjects of study. Now, a New York State college will offer a course on a musician whose chief claim to fame lately has been her ability to shock: Miley Cyrus .
Skidmore College, in Saratoga Springs, New York, will offer the course , titled The Sociology of Miley Cyrus: Race, Class, Gender and Media , this summer. And according to local paper The Daily Gazette , the professor who's teaching it is 100% serious.
Carolyn Chernoff , the visiting assistant professor of sociology at Skidmore, says the class will be a study of cultural conflict. "I created it as a creative and rigorous way of looking at what's relevant about sociology and sociology. Miley Cyrus is a surprisingly complicated cultural moment," she explains.
Chernoff says she was inspired to create the course, which is being offered three days per week, after observing the outcry that followed Miley's twerk-tastic VMA performance, and the singer's own reaction to it. "All of a sudden, my students who claimed to be not that interested in Miley Cyrus had so much to say," Chernoff said of the discussions she had with her classes during that time.
The course description declares, "We will explore core issues of intersectionality theory, looking at race, class, and gender, as well as taking a feminist critique of media, using Miley as a lens through which to explore sociological thinking about identity, entertainment, media and fame." The "rise of the Disney Princess" and the "gender stratification and hyper-commodification of childhood" are also topics that will be discussed.
So far, only three students have signed up for the 29 spots in the class. Perhaps that's because Chernoff says anyone who enrolls needs to have an introductory background in sociology, plus strong writing skills, since there are no multiple choice exams.
Copyright 2014 ABC News Radio