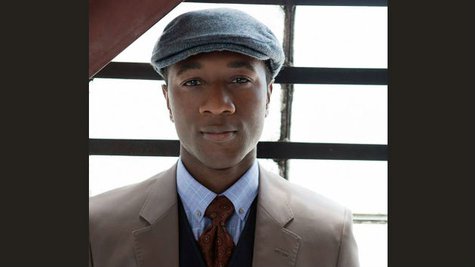 After the success of Avicii 's "Wake Me Up," on which he sang uncredited, Aloe Blacc is celebrating his first-ever top-10 hit on his own with "The Man." Aloe says that the song's message, about overcoming challenges and coming out on top, was inspired by a talk he had with a certain rap music legend.
"The concept of the song was really me trying to impress Dr. Dre ," Aloe tells ABC News Radio. "I had a meeting with him and he was explaining to me how I should come with stronger themes in my music, so I figured this theme would be strong enough for someone like him." It certainly was: the song ended up being featured in a commercial for Beats by Dre headphones, which gave it a huge boost.
"The Man" is built around a sample of the classic Elton John tune "Your Song," and it's impressed the legendary rocker as well. Due to the sample, Elton's listed as a co-writer on the song, so he technically has his first top-10 hit as a songwriter since 1998. Has he reached out to Aloe? "I haven't heard personally from Elton John, but I've definitely seen [interviews where he says] he's excited about the song," Aloe tells ABC News Radio. "It makes me feel really good. I'm glad that I've got a co-write in history with Elton John!"
Most recently, we've seen Aloe on The Voice , where he just wrapped up a two-week stint as a mentor for Team Adam. But he says the experience of helping the contestants also taught him a thing or two.
"There's a lot of things that I realized I'd never had actually paid attention to, that I do in the development of my performance, that I had to be very specific about to these new singers," Aloe explains. "I learned that taking some time to look in the mirror and watch what you're doing...can make a world of difference in how you present [yourself onstage]."
While two contestants sang "The Man" on The Voice, over on American Idol, another contestant sang "Wake Me Up." What does Aloe think about his songs becoming so well-known that they're used on TV competitions?
"It's fantastic," he tells ABC News Radio. "You know, for me, a song is never finished. I may release a version of it, but at that point it's like a flower that just continues to blossom and everybody who sings adds a new petal to it."
You can catch Aloe on tour this summer with Bruno Mars .
Copyright 2014 ABC News Radio