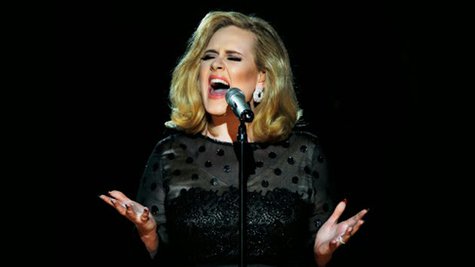 Since Adele isn't exactly spilling the beans to the press about her eagerly anticipated third album, it's up to her collaborators to do the talking for her, but even they don't know everything. OneRepublic 's Ryan Tedder is working on the album, but he says he has no idea when it's coming out or if the singer plans to tour behind it. All he knows, he says, is that she can do "whatever the hell she wants to do until forever."
"She will deliver the album on her own timetable, at her own pace, and the only person that will ever declare it finished will be her, when she decides it's finished," Ryan tells MSN Music UK . "I could probably guess when [Jesus] Christ is going to return more accurately than when that album will come out. And that doesn't mean it's going to be a while, it just means I have no idea."
Addressing the issue of Adele's alleged stage fright and whether or not it'll keep her from touring, Ryan says, "From conversations I've had with her, I don't think she has a fear of it. She's a mother, she has a young kid...that takes a certain frame of mind to be in." While he points out that "most artists have to tour," Ryan notes, "When you sell 30 million albums, on one album, she can do whatever the hell she wants to do until forever."
"If she decided to tour, I'm sure it will be the most incredible tour ever and if she decides not to, it will have no bearing on how amazing the album itself is," he adds.
Describing Adele was "one in a billion," Ryan adds, "She can do what she wants to do and my whole role whatsoever as pertains to her is to facilitate in whatever way possible. Any talent or ability I have is at her disposal for as much or as little as she wants it, for as long or as little as she needs it. I'm happy to be a part of the ride."
As for Ryan's own work with OneRepublic, he says he's excited about their new single "Love Runs Out." "It's like a jolt of adrenaline. It's rough round the edges, it's raw, it's aggressive, but it's got a spirituality about it," he says. "It feels like church but in a modern way."
Copyright 2014 ABC News Radio