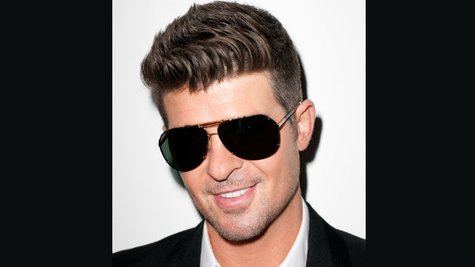 R obin Thicke and Paula Patton have remained separated since February, but the crooner has not given up the fight to reconcile. Now, for the first time since their split, Robin is opening up about where his marriage currently stands.

"We're both doing well. We're both very happy right now -- much happier," he t old People at the grand opening party of Express Times Square in New York City on Tuesday night .
When asked why he spoke openly about his high school sweetheart on tour, the singer explains, " My music is very honest about what I'm going through and my songs are about my life. And my relationship with her was 21 years of my life, so I just thought it was important to me to let people know how much she means to me."

So what did Paula think of the dedicated love songs? "She loved it," Thicke says. "She thought it was the sweetest thing and very romantic, and I've always been a romantic guy that way."

Thicke also revealed that he's handled the separation by channeling his emotions into his music.
"Everything about this moment in my life -- this amazing year I just had and what I'm going through personally -- has actually ignited some of the best writing I've done in a long time," he says. "Whatever everybody's wondering about, they're going to hear it all in the album."

While his future with Paula still remains unclear, Robin hopes to be a "great father" to their three-year-old son , Julian . He also wants to "write some great music, put on some great shows and be a great friend to Paula."

Copyright 2014 ABC News Radio