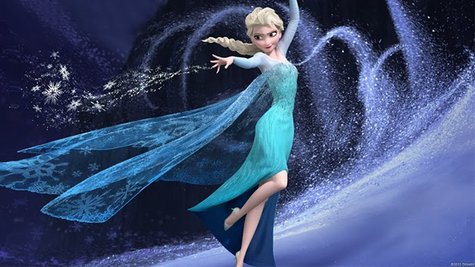 Looks like Frozen is the soundtrack equivalent of Adele : it just won't let go of its stranglehold on the charts.
The soundtrack of the hit Disney film is now spending its seventh week at number one on the Billboard album chart, thanks to a 104% sales increase. Why the bump? The March 18 release of the movie on DVD and Blu-ray evidently sent fans scurrying into stores to buy the songs. Last week, the album sold 202,000 copies, according to Nielsen Soundscan. That's its best sales week yet, after 17 weeks on the chart.
The last album that hung around on the charts as long as Frozen and still managed to sell more than 200,000 copies in a week was Adele's 21, and that happened two years ago.
The movie Frozen is now the 13th highest-grossing film ever in the U.S. and Canada, and is the third highest-grossing film of 2013. The soundtrack has sold 1.6 million copies to date.
Meanwhile, Idina Menzel's "Let It Go," the album's big hit, has rocketed to #5 on the Hot 100, a new peak. It's now officially the highest-charting Oscar winner for Best Original Song since 2002, when Eminem's "Lose Yourself," from the movie 8 Mile , spent 12 weeks at #1. The only other Oscar-winning song that's reached the top 10 since "Lose Yourself" has been Adele's "Skyfall," but that only got as high as #8.
Elsewhere on the chart, Enrique Iglesias has scored his third top-10 album, as Sex and Love enters at #8 with first-week sales of 24,000 copies. His other top-10 albums were 2010's Euphoria , and Escape , which came out back in 2001.
Copyright 2014 ABC News Radio