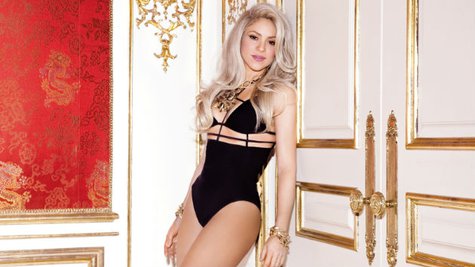 Shakira 's new self-titled album arrived in stores Tuesday, and to mark the occasion, she's released a brand-new video , for the epic rock ballad "Empire." In the clip, she seems to be in a marrying mood.
Shakira starts the video dressed demurely in a beige wedding gown, her hair pinned up, sitting on the floor. Then, we see her walking down the aisle in a church in a white gown, with her hair loose. Suddenly, she turns and runs out of the church, still in her gown, through a green field. Next, we see her on the steps of the church, in the same gown, but she's literally on fire. After more shots of her singing in the green field, we suddenly cut to her dancing in an empty church, wearing a super-plunging, sexy black dress.
The remainder of the video consists of more footage of Shakira dancing in the church, dancing on the steps while on fire, and dancing in the field as she sings about a passionate love that's so strong, it causes "the empires of the world" to "unite" and "the stars" to "make love to the universe."
Shakira will appear on NBC's Today show on Wednesday.
Copyright 2014 ABC News Radio