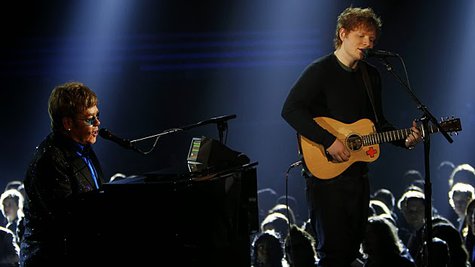 Ed Sheeran , Fall Out Boy and other stars are saluting Elton John today on his 67th birthday...by releasing their versions of some of his classic hits.
Elton's legendary 1973 album Goodbye Yellow Brick Road is getting the deluxe reissue treatment, and the package, in stores today, also includes a disc of nine new recordings featuring stars of today offering their takes on some of the well-known tracks from the album. In addition to Ed and Fall Out Boy, other participants include country stars The Band Perry , Hunter Hayes and Zac Brown Band , Emeli Sandé and Miguel . Among the songs they cover: "Candle in the Wind," "Bennie and the Jets," "Saturday Night's Alright for Fighting" and "Goodbye Yellow Brick Road."
"I thought it would be nice for some newer artists to give their interpretation of some of the songs," Elton explains. "I mean, for example, 'Bennie and the Jets' -- I wanted Miguel to do that because, for me, he made the best R&B record last year and he's the best new R&B singer."
Ed was an easy choice, considering he's managed by Elton's management company, and the two have duetted several times, most recently last month at Elton's Oscar party. Fall Out Boy was also an obvious choice, since Elton guest-starred on their album last year. As for Emeli, she played at Elton's Oscar party in the past; the country stars are acts whom Elton, a fan of all musical genres, admires.
However, Ed reveals that the song he was asked to do, "Candle in the Wind," wasn't exactly his first choice. "If I'm honest, if I could have chosen any other song to do, it would've been anything but 'Candle in the Wind,'" he says. "Not that it isn't a brilliant song, it's just that that song's so special to England's heart." Indeed, when Elton released a new version of it in 1997, in the wake of Princess Diana 's death, it became the biggest-selling single in history.
"But I think we tackled it in a way that was completely the opposite to what it was before, making it less sad and more upbeat," Ed explains of his take on the tune, which was originally written about the late film icon Marilyn Monroe .
Patrick Stump of Fall Out Boy says having Elton ask them to participate in the project was thrilling, but also intimidating.

" Getting that call is definitely one of the weirdest phone calls you'll ever get, 'cause, I mean, 'Yes, of course, of course!' right? But then there's also, the next question is, 'Why? Why did they think of us?' y'know?"
For the project, Fall Out Boy recorded "Saturday Night's Alright for Fighting," which is one of the hardest-rocking songs Elton ever recorded. "We kind of went our own way [with it]" says Patrick. "And I was really terrified what Elton would say. And when we turned it in, he was like, 'Love it!' You know, he was so excited."
You can check out all the cover versions on the deluxe version of Goodbye Yellow Brick Road, in stores Tuesday.
Copyright 2014 ABC News Radio