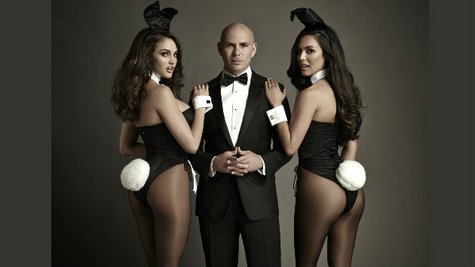 Most men enter into what you might call a "strategic partnership" with Playboy magazine at age 12, when they find a copy under their dad's bed. But now, Pitbull has announced his own partnership with Playboy Enterprises, and it's a bit more far-reaching than just, uh, reading the articles.
Mr. Worldwide and Playboy are going to team up for a variety of "content, experience and product-related initiatives," according to an announcement from the company. The first installment is the rapper's upcoming video for his new single "Wild Wild Love," featuring G.R.L. It was shot at the Playboy mansion in Holmby Hills, California. No word on whether Hugh Hefner makes an appearance in the clip.
In a statement, the rapper says, "In order to become an iconic brand you have to partner up with one. What's more iconic than Playboy ? It's an honor to partner with Playboy Enterprises." Then, citing his birth name, he adds, "Ladies and Gentlemen you are looking at the new Playboy, Armando Christian Pérez. ..Dale!"
As for Playboy, the company's CEO, Scott Flanders explains that it is "taking a big step in re-interpreting our enduring brand for a new generation by welcoming Armando into the fold," adding, "His magnetic energy, charisma and style combined with his clear talent as an entrepreneur exemplify the aspirational lifestyle that defines our brand. We're looking forward to doing some great things together."
Copyright 2014 ABC News Radio