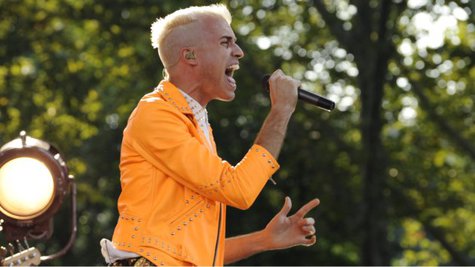 Tyler Glenn , frontman for Neon Trees , comes out as gay in the new issue of Rolling Stone magazine.
Tyler, a Mormon from Provo, Utah, tells Rolling Stone , "I've always felt like I'm an open book, and yet obviously I haven't been completely." Tyler says he knew he was gay ever since he was a kid, but kept his sexuality under wraps until now. He explains, "I had my crushes on guys throughout high school, but it was never an overwhelming thing until my twenties. Then I'd be dating girls and in love with my straight friend and it was the worst feeling in the world."
The singer reveals that he started to tell his friends and family he was gay this past October, and many of the songs on the band's upcoming album, Pop Psychology , are informed by his decision. He says he is inspired by other high-profile figures who've recently come out as well.
"I really love all of the sports figures that are coming out recently," he tells Rolling Stone . "I appreciated Michael Sam was like, 'I want to be able to go to the movies and hold hands with my boyfriend.' Even hearing him say 'boyfriend,' I was just like, that's cool."
The full story, including the reaction from the rest of Neon Trees, will be posted online at RollingStone.com on Tuesday.
Copyright 2014 ABC News Radio