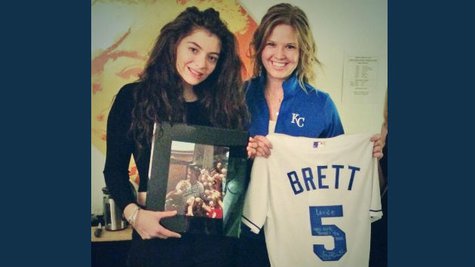 Lorde wrote her Grammy-winning smash "Royals" after being inspired by a photo in National Geographic magazine of a member of the Kansas City Royals wearing his "Royals" jersey. This past Friday, the singer received a copy of that photo, autographed by that very same player.
Lorde's current tour stopped in Kansas City on Friday, and while she was there, the Kansas City Royals presented her with a copy of that particular magazine photo, signed by the player himself, George Brett . While Brett himself was unable to be there in person, he also sent along an autographed Royals jersey for her with his name on the back. The Royals tweeted out a series of photos documenting the entire event, writing, "Lorde says that the jersey she received was one of the coolest things she owns!"
Last year, Lorde told ABC News Radio, "The way I write is that I find a particular word or phrase which kind of defines the concept that I'm thinking about, and when I find that word, everything sort of clicks. And so I just cut that picture out of a National Geographic 'cause I thought it looked cool, and I thought, 'Yeah, that's a great word, I've got to incorporate that somewhere,' and it just kinda tied in with what I was thinking about."
Coincidentally, Lorde's latest hit is called "Team;" however, it was not inspired by the Kansas City Royals.
Lorde wraps up her North American tour Thursday in Oakland, California, and then heads to Santiago, Chile, to perform at the Lollapalooza festival there. She'll also perform at the Lollapalooza festivals in Argentina and Brazil before heading back to the U.S. to perform at the Coachella festival on April 12.
Copyright 2014 ABC News Radio