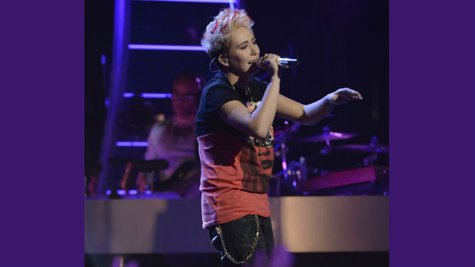 While there have been many gay contestants on American Idol , the only openly-gay contestant in the show's history has been MK Nobilette , who was voted off the show on Thursday night. Speaking to reporters on Friday, the singer from San Francisco says she hopes her time on the show will encourage others.
"I didn't mean to say [that I was gay] to my advantage or anything; I just thought it was an important thing to know about me when I said it," MK said, referring to the fact that she told the judges that she was gay on-camera before she was chosen for the semi-finals.
"But I am hopeful that I will be a good role model for other queer people who are afraid to come out, or afraid to think that they can't do something as big as American Idol, so I really hope that that does influence a lot of people."
Asked if she discussed her decision to be open about her sexuality on the show with one of this year's mentors, Idol alum Adam Lambert , MK said she did, and that they disagreed on the subject Adam didn't come out until after he competed on the show, eventually coming in second during season eight.
"He said that he was proud of me for doing it, but we both are on different standpoints," she told reporters. "Adam didn't talk about his sexuality when he was on the show because he felt like it didn't matter. But for me, I feel the opposite. I feel like it is part of me and I feel like that matters and if I wanted America to get to know me, and know who I am, then they should know my sexuality."
As for whether or not she felt that the fact that she was gay had an impact on her votes from the audience, MK said, "Of course," but added, "I think it would have affected my votes if I didn't say it as well. So I think it was good and bad."
The singer also revealed that Harry Connick Jr. , who was very hard on her during the show, had some very positive things to say to her afterward. She also points to his comment about her looking as though "she didn't want to be" on the American Idol stage as the one piece of criticism she found most constructive. "Now, going into other performances, I always wanna tell myself, 'You need to prove that you wanna be here,'" she told reporters.
Though she's gone from the show, MK will be part of this year's American Idols Live tour, which will get underway this summer.
Copyright 2014 ABC News Radio