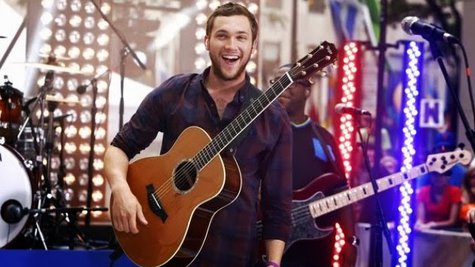 Phillip Phillips is really taking the concept of Record Store Day -- the day when independent record stores welcome customers with exclusive offerings you can't find in your local Walmart -- literally. That day -- April 19 -- he'll be performing in an actual record store.
Billboard reports that Phillip will be performing in Berkley, California, at a store called Rasputin on April 19. He doesn't have any concerts around that time, so it's a special one-off performance. Other acts will be marking Record Store Day by performing in other stores in North America; for example, Barenaked Ladies will perform at a store in Toronto called Sunrise, while Mike Mills of R.E.M. will perform in Scarborough, Maine, at a store called The Bullmoose.
While most of the cool music you'll find in stores on Record Store Day is by rock acts, there are a few pop stars who are joining in the fun with exclusive vinyl releases, including One Direction , American Authors , Bastille , Jay-Z and Paramore . Visit RecordStoreDay.com for a full list.
Copyright 2014 ABC News Radio