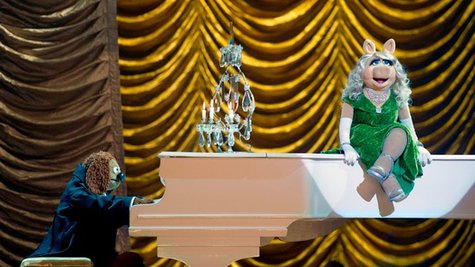 One of the big moments in the new movie Muppets Most Wanted comes when Miss Piggy sings a duet with none other than Celine Dion . But according to Piggy, the Canadian superstar would never have gotten through the tune without her help.
"I did have to coach her a little bit through the song to hit those high notes," the porcine diva tells ABC News Radio. "But she really just kind of guests in the song. It's moi's solo number!"
The name of the song is "Something So Right," and the movie's producer, Todd Lieberman , tells ABC News Radio how Celine ended up in the movie singing it with Piggy. "We knew that in the song 'Something So Right,' which is Piggy's kind of emotional climax...that we wanted to put a female icon in that song with her," he tells ABC News Radio, "And Celine was someone that came to my mind early on because it doesn't seem like there's a much bigger female icon than she is."
Lieberman says Celine flew to Los Angeles from Las Vegas, where she does her show at Caesars Palace, just to film her part. And she's far from the only musical superstar who pops up in the film: Lady Gaga , Josh Groban , Usher and Diddy, among others, also make cameos.
"Part of the joy, I think, of these movies...is going and seeing faces that you had no idea that were in this movie," Lieberman explains. Among those names, it's probably not surprising that Lady Gaga appears in the film, since she did an entire ABC holiday special with the Muppets in November. But Lieberman says they've been trying to work with her for several years.
"Lady Gaga is a tremendous fan of the Muppets and we tried to get her in the first film, but her schedule didn't allow for it," he explains. "So we were able to figure it out in this one. We actually shot the movie in London...[but] we did a little bit of shooting in Los Angeles, and we were lucky enough to align or schedules with Lady Gaga's schedule, so she could pop in for a few hours during our L.A. shoot and then pop out. And she did it with another legend: Tony Bennett ."
As for how he managed to corral such big names for the project, Lieberman says, "You just don't know how far reaching the Muppets' influence is and how many fans there are out there. We've got Grammy Award-winners, we've got Oscar-winners, we've got mega-stars, dramatic actors, musicians in categories that you wouldn't think would like the Muppets...somehow the Muppets brings them together."
But back to Piggy's collaboration with Celine. The frog-loving porker explains why she decided to lower her impossibly high standards enough to share the spotlight with the Grammy-winning star. "I am a big fan of Celine. I think she's a wonderful person," she reveals. "And I thought, 'You know, why not? I'd give her a big break. The kid deserves a break.'" But what was it like to collaborate with the woman hailed by many as having one of the best voices in the world?
"Everybody asks, 'What's it like to sing with Celine Dion?' Are you asking her the same question?" huffs an outraged Piggy. " That is the question. She would say, 'It was amazing, it was the biggest moment of my life.' That's what she would say."
Copyright 2014 ABC News Radio