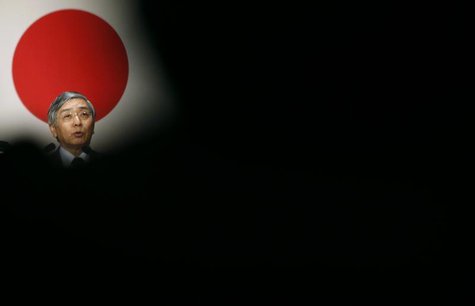 LONDON (Reuters) - Bank of Japan will continue to pursue its massive monetary easing program, with the Japanese economy only halfway to achieving its 2 percent inflation target, the central bank's governor said on Friday.
The BoJ began an intense burst of monetary stimulus in last April, pledging to buy assets aggressively to accelerate consumer inflation to 2 percent in roughly two years, in a country mired in deflation for 15 years.
"Japan's economy has been following a path toward achieving the 2 percent price stability target as expected, and we are halfway there," Haruhiko Kuroda said in a speech. "Of course, we are only halfway there and will steadily pursue the QQE (quantitative and qualitative monetary easing)."
Since last year, the BoJ has stood pat despite market expectations of more stimulus to cushion the impact from a sales tax hike that takes effect in April. It has argued that the current ultra-loose policy is enough to keep the economy on track to meet the price target.
"We have been taking a stance of doing whatever we can to achieve the 2 percent price stability target ... Japan's economy is expected to continue on a moderate recovery with a virtuous cycle among production, income, and spending at work," Kuroda said.
He said the central bank must also monitor asset prices, but he added that no signs of a bubble had appeared so far.
A Reuters poll showed the BoJ is expected to ease policy further by increasing the size of asset purchases this summer to help boost the economy.
The BoJ has various ways of emerging from its ultra-easy monetary policy, Kuroda said, although he also said it was too early to discuss an exit.
"We have a number of options or tools other than selling assets acquired/purchased by us. That will not mean we will never sell," Kuroda said. "At this stage, it's premature to discuss the exit from the QQE."
(Reporting by Natsuko Waki and Ana Nicolaci da Costa; Editing by Larry King)