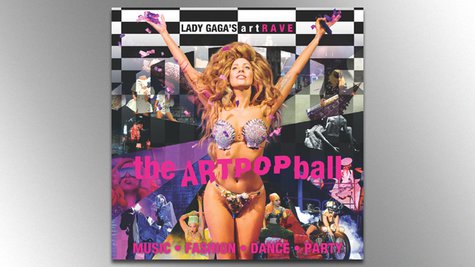 So much for those rumors about sluggish ticket sales for Lady Gaga 's artRAVE: the ARTPOP Ball. Promoters just announced they're adding six additional dates to the tour.
The new shows begin July 22 in Los Angeles and wrap August 6 in Denver. Gaga's scheduled to kick off the tour May 4 in Fort Lauderdale, Florida, though she has several warm-up dates planned in New York City for late March and early April.
Arthur Fogel , the head of the Live Nation's Global Touring division, says, "The ticket sales for Lady Gaga's artRAVE: the ARTPOP Ball in North America are fantastic. We're thrilled to be able to add dates to meet the incredible demand from fans. It is going to be a great tour on all levels." Those comments pretty much echo what Fogel told Billboard two weeks ago, at which time he promised not only only to announce six additional U.S. dates -- which he's just done -- but also additional dates in the U.K.
Last Tuesday, Gaga posted a photo of the show's stage design on Twitter and on her social networking site, LittleMonsters.com . It's pretty elaborate, with one runaway extended from the main stage. The runway further branches into the audience with another, smaller runway. Gaga tweeted, "The stage is lucite and you can just dance underneath the runways."
LadyGaga.com 's got the full list of tour stops. Here are the six new dates:
7/22 -- Los Angeles, CA, Staples Center
7/30 -- Phoenix, AZ, US Airways Arena
8/1 -- Las Vegas, NV, MGM Grand Garden Arena
8/2 -- Lake Tahoe, NV, Harveys Lake Tahoe
8/4 -- Salt Lake City, UT, Energy Solutions Arena
8/6 -- Denver, CO, Pepsi Center
Copyright 2014 ABC News Radio