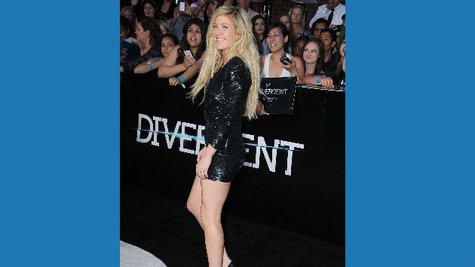 Ellie Goulding isn't in the new movie Divergent, but she's there in spirit: her vocals are all over the film's instrumental score, serving as the "inner voice" of the movie's main character, Beatrice "Tris" Prior, played by Shailene Woodley .
The songs on Ellie's album Halcyon were used as placeholders to soundtrack the movie early on, and they worked so well that two of them -- "Hanging On" and "Dead in the Water" -- ended up on the actual Divergent soundtrack, which is in stores now. Ellie also contributed a brand-new track called " Beating Heart ," but Junkie XL , the Dutch producer and electronic artist who created the instrumental score, wanted to feature her even more.
Junkie XL, born Tom Holkenborg , tells ABC News Radio that he felt Ellie's voice embodied the "inner personality" of Tris, a teen growing up in post-apocalyptic Chicago, where humanity is divided into "factions," based on personality traits such as intelligence or bravery.
"It's really hard to describe because it's a really personal thing, actually," said Holkenborg, when asked why Ellie's voice was the right one to reflect Tris' journey. "But...there's a certain innocence to it, but then she can be bold as well. And I think the combination of some of those factors really made it perfect."
Despite that, Holkenborg, who's done remixes of songs by everyone from Justin Timberlake , Madonna and Britney Spears to Elvis Presley and Coldplay , says it took a long time before both he and Ellie were comfortable enough with one another to work on the score together.
"We got together for the first time and we decided it was just gonna be a nice hang, so we drank some wine and talked for five hours and listened to music and got to know each other," he tells ABC News Radio. "And then...we agreed [that] if we get together [again], we're gonna [do it]. And so we did get together the next time, and we did some amazing recording sessions. And it's spread throughout the film."
Ellie has really gotten into the Divergent spirit of late. She posted a photo of herself sporting a series of (fake) bird tattoos identical to the ones that Tris gets in the movie, and also walked the red carpet at the premiere earlier this week. Afterwards, she tweeted , "I was so proud hearing my music in Divergent last night. Can't wait for you guys to see it. It is pretty epic."
In addition to Ellie, the Divergent soundtrack also features new music by Zedd : the song "Find You," featuring vocals by Matthew Koma and Miriam Bryant . The movie opens Friday.
Copyright 2014 ABC News Radio