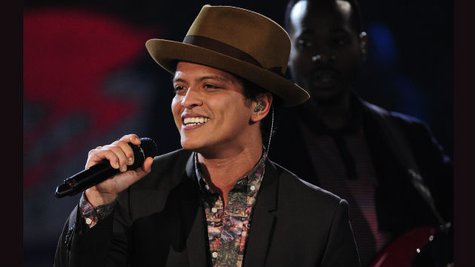 Bruno Mars is currently touring in Asia, but he'll be back stateside in May, not only for concerts, but to headline a fundraiser hosted by Brad Pitt .
Bruno will provide the entertainment at Pitt's May 17 gala for his charitable foundation Make It Right, which was established in 2007 to build new, environmentally friendly homes in New Orleans after Hurricane Katrina. Since then, it's built housing in New Jersey, Missouri and other locations. Additional performers will be announced in the coming weeks to join Bruno on the bill.
The gala will take place in New Orleans, and all the "cheap" tickets -- the ones that cost $1,000 each -- are already sold out. If you've got $2,500 to spend, though, you'll still be able to attend . The last fundraiser, held in 2012, raised $4 million, and featured the likes of Ellen DeGeneres , Rihanna , Sheryl Crow , Kanye West , Seal , Snoop Dogg and more.
The next U.S. leg of Bruno's tour begins next month in his home state of Hawaii, and gets to the mainland in May, when he performs in Las Vegas.
Copyright 2014 ABC News Radio